Three Persons In Common:
Owners of Shapegwei. Barbary Lion King

Walt Disneyís Production Studios in Orlando, Fl rented two Barbary lions from Tim Seegos of Fort Lawn South Carolina. Tim Seegos took Bone Head and Shapegwei there so the animators could capture their personalities and gestures. Now was born, Simba, Lion King.

Some months later, Tim Heier of Oakley, Ks bought the cub, Shapegwei. Shapegwei actually lived in Timís home until the city passed ordinances, running the Baby Lion King out of town. However, Tim was impatient and authoritative with the animal. In protest, the cub beat him up and tore his shirt. Now the cub is sold to me, Jeffrey Harsh, for five-hundred dollars.

This is called a hide price, the price of a taxidermist or a shooting farm. This is the protocol, so as to save the cubís life. I donít look at it as buying the animal, but as paying ransom to save an exotic animal.

Shapegwei grew from a happy-go-lucky cub to an annoying, chewy cub. As a "teenager" he was quite carefree. Then he became an adult! "I will kick your butt if you take my food."

After being evicted from a house in town Shapegwei moved into a two-hundred feet square cage in the country, compliments of the animal refuge. When I fed him every day, I visited with him. He seemed happy: tumbling, playing, and no spankings! No climbing the curtains; no eating the kidsí toys; no running down two-year old Ashley. He had no reason to be in trouble. This was his home and he could do as he pleased.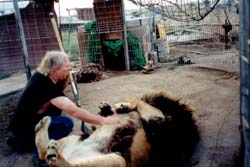 His personality changed from a "get-out-of-my-face" attitude to a happy, carefree attitude. The animators of Lion King captured this part of Shapegweiís personality more than any other part, i.e. the footage when he walked across the log over the river singing, "Donít worry. Be happy." This was his personality, a bouncy, happy-go-lucky cub with not a care in the world.

When Shapegwei was nearly three years old he began to leave behind puberty. Although he was not quite old enough to breed, he was evidencing that "King of the Jungle" attitude. "Throw my meat through the door, and if it is opened again I will kick your tush," showing teeth and claws in Lion braille.

Shapegwei had a male lion roommate to play with about the same age. The Alfa Lion was not a Barbary Lion like Shapegwei, so Shapegwei was growing much faster than his roommate. Historically, some Barbary Lions have been known to develop to seventeen feet in length.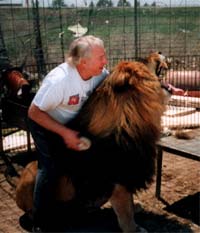 At about four years of age, Shapegwei began to develop his intuitive nature and did not feel the need to prove himself. He became more self-assured and just observed everything Ė with a watchful eye. Also, he appeared to have healing qualities to a person who touched him or petted him. Women with mental trauma seemed to release it. Men forgot their tough guy macho, and returned to adolescence.

One day Dan, a transient, volunteered to help me clean the lionsí cage and throw out the old bones. Dan opened the lionsí door as I threw out old bones and cow heads. Then he would close it while I gathered more. The lions appreciated a clean house and left me alone when I cleaned. This time however, Shapegwei suddenly jumped to his feet, flew past me before I could blink, and tried to get Dan at the door. Leaving me locked inside, the transient man stepped back six feet as the lion tried to grab him threw the bars. Why?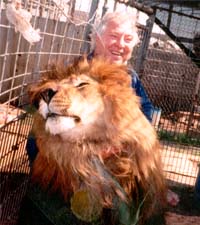 Two days later, when the transient stole the refugeís diesel pickup, I understood what Shapegwei was endeavoring to tell me. It was a great truck, with no theft insurance. So there would be no truck coming back. I really wished I could have spoken lion. Then I would not be driving the junk trunk the refuge has today. For now "a rich refuge is made up of the abundance of things it can get along without."

Shapegwei came to show great respect and appreciation to me, and now I didnít have to watch my backside. He became a very close and endearing friend. He no longer needed to dominate me, but now showed me greater respect and admiration than any dog or house cat in my experience. Shapegwei was over ten feet long and knew he was king, but he did not take advantage of his size. Many so-called experts have stated, "Big cats donít make good pets." They never saw Shapegwei and I hug each other.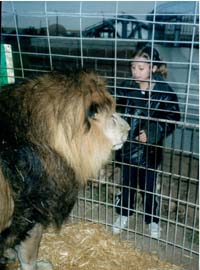 Many times in the books of the Bible, the Barbary Lion was used as a spiritual icon. The credibility of the Barbary Lion as a spiritual symbol can not be beaten. Unfortunately, the last Barbary Lion in the wild was shot in Morocco 1921. Only a handful managed to escape into captivity, as a King in Morocco kept some as pets. Since then we donít know how much inter-breeding has been done with the lions, which we see today in zoos.

Like the sands of time, Shapegwei is no longer with us. His brother, Bone Head, is still living with his best friend and master, Tim Seegos, on Seegos Road in Fort Lawn, Sc.

Like the carrier pigeon, the Barbary Lion is one of our great international treasures. But now on the verge of extinction, I would guess that there are less than fifty Barbarys left in the world. Living with a Barbary Lion was like a revolving door or a time warp. I donít know the thoughts of the other two fellows who owned Shapegwei, but as for myself, "I tamed the beast and the beast tamed me." I have become more aware of the Lord and the redemptive plan with humans through the changing times and the personalities and characters of Shapegwei, the Barbary Lion King.